Best driveway service in Melbourne
Are you building a new house with a new driveway? Or do you wish to repair your existing driveway? Mini bobcat hire in Melbourne would be an ideal solution for you. At AkKhouzam, we help in levelling areas and will also spread stones or gravel as per your requirement. Our mini bobcat will give a beautiful finish to your driveway. At AkKhouzam, we offer two types of driveway services:
Concrete driveway
Gravel driveway
Be it a new or existing driveway, we will look at what fits in well with the design within your budget.
Prepare Old and New Driveway in Your Town
Having a concrete driveway is a great idea as concrete is one of the most durable materials in comparison to others for driveways. The cost for making a concrete driveway is usually at an economical rate and requires less maintenance. Prices will differ with the various colours and textures you wish for your concrete driveway. Knowing the type,we help plan the budget for preparing a new driveway or to repair an old one. At AkKhouzam Pty Ltd, we offer attractive prices to make your driveways look fabulous.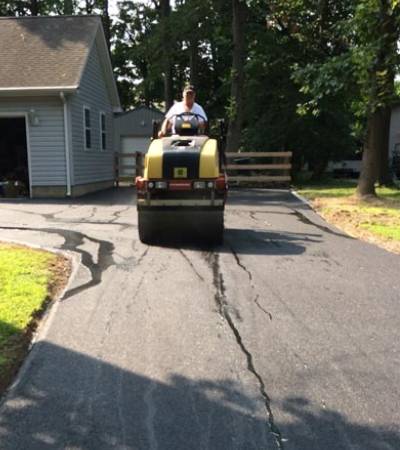 We are committed in delivering quality concrete driveways as per our customers' requirements. Worried that your concrete driveway is deteriorating? Do you need help in making a new driveway? Being among the best driveway contractors in Melbourne, AkKhouzam provides concrete repairs at reasonable prices.
Factors affecting the cost of concrete driveway installation
A few factors that affect the cost of concrete driveway installation are:
Size of your driveway
In case you are redoing an old driveway then you need to remove the existing driveway. This will affect the cost of your concrete driveway. If you are are constructing a new driveway then levelling the ground, removing lawns and plants will also have an impact on the cost.
The texture and finish you choose for your driveway can also affect the price range. Having decorative and fancy elements in your concrete driveway will increase the overall costs.
The orientation of the ground is one of the key factors which will increase the cost or decrease the cost. Steep ground with uneven levels impacts the price range.
Once your driveway is complete it needs regular cleaning to avoid further cost at a later stage. The easiest way is to use a hose and remove the surface dust regularly. By doing this you can avoid expenditure on extensive repairs.
Wish to give your driveway a new look? AK Khouzam Pty Ltd team is here to help. We are one of the in Melbourne. Call us on 04 1680 0119 or 04 2441 1041. You can also email your requirements at [email protected]