Best Company for Rock Placement in Melbourne
At AkKhouzam, we offer a wide variety of services. One of them is landscape rock placement. We supply a huge variety of rocks for your needs. Whether it be it for stabilising walls, creek beds or simply for just landscaping your home or large areas, our experts can help you in selecting the right rock for the task. We do formal, natural and modern landscapes. To achieve the result, we work in liaison with contractors who provide their quality services like carpentry, paving and concreting.
Landscaping Rocks Placement Service in Melbourne
Landscaping rocks placement is a crucial stage in the landscaping process which helps in giving texture and focal point. Once they are placed in a position, they give an appealing look to the entire area. Here are a few options which might help you attain a splendid looking landscape:
If you have big rocks, then it would be ideal to keep it at the furthermost corner of your property which allows eyes to see the whole landscape or could also signify the boundary of the property. Grouping rocks formation can draw attention.
Having a varied size and shape of rocks add beauty to the landscape giving it a very natural feel and pleases the eyes. It also gives depth while they are grouped in different heights and shapes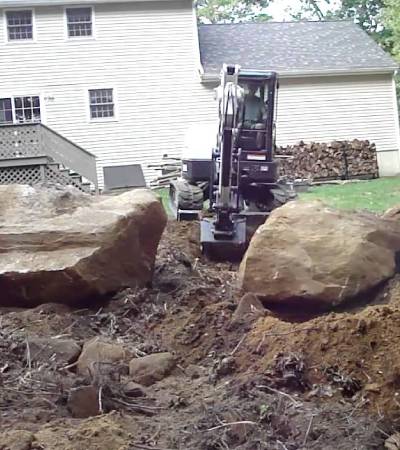 To give a touch of greenery to your rock features plant some plants of different size and some grass around it.
It is important to get a symmetrical look. Hence, put rock groupings on both sides of a door, or an outside bench.
To slow water trickling that causes soil erosion, it would be ideal to place rocks on a hill like structure with plants around them.
For the landscape to look proportionate it is important to keep similar sizes of rocks near similar sized objects. For example, you could place smaller rocks near smaller plants and larger ones near trees.
Rocks can move if not stationed properly. It is important to build a trench to support rocks and keeping them stable in its position.
Zen garden is another project you could take up with large and small rocks. With a zen garden you do not need worry about mowing your lawn or weeding it.
Do you want help for landscaping in Melbourne? AK Khouzam Pty Ltd is a rock placement company who offers a wide range of supplies and services related to landscaping. Got any creative ideas? We are all ears! Call us on 04 1680 0119 or email us at [email protected]